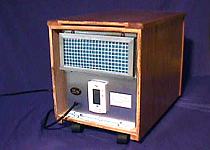 Furnace Features
Safe, efficient, economical heating
More Information
Lifetime Filter No-hassle, low maintenance heating and purified air with our permanent filter.
Digital Thermostat Easy to operate and designed with cost effective, energy efficient heating in mind.
Filter Cleaning Instructions The same great filters used by our furnaces are also used in our Air purifiers. All of our filters are permanent, washable, and protected by a lifetime warranty.
Sun Aire™ Ductless Furnace
The Sun Aire™ Ductless Furnace is housed in a beautiful, hand crafted, medium Oak cabinet with four, 2 inch casters for ease of movement on carpeting and tile.
There are three light-port inspection holes located in the floor of your cabinet. To check your lamps, simply tilt the unit slightly to one side while unit is running. You will see three small white dots on the floor directly under the unit when all three lamps are firing.
A heat limit snap disc is located inside the heating chamber as an added safety feature. If anything should block the flow of air into or out of your unit, this safety feature will automatically shut the power off to the unit. The furnace will reset itself once your unit has cooled off.
A fully programmable, digital thermostat is located on the rear of the unit as well as access to the permanent filter for easy removal for cleaning.
The Sun Aire™ Ductless Furnace plugs into any common electrical outlet and is the most energy efficient furnace in the world.
All Sun Aire™ Products Are Proudly Made in the USA