More Information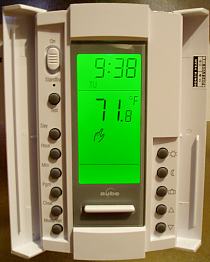 Our Digital Thermostat is fully programmable for your heating comfort yet extremely economical and easy to operate.
Filter Cleaning Instructions The same great filters used by our furnaces are also used in our Air purifiers. All of our filters are permanent, washable, and protected by a lifetime warranty.
Sun Aire™ Ductless Furnace
This programmable digital thermostat was custom designed for the Sun Aire™ Ductless Furnace for maximum energy savings. The thermostat offers two operating modes and features a large, easy to read LCD read out.
Auto Program
The Auto Program allows for daily or weekly settings, seven different daily settings or 5/2 for week days and weekends.
Four temperature changes are available every 24 hour period. For example:
Wake up temperature
Depart temperature
Return temperature
Bed time temperature
Manual Mode
The Manual Mode provides "Up" and "Down" buttons for raising or lowering the temperature and is sensitive to within one half to one degree.
All Sun Aire™ Products Are Proudly Made in the USA