Ductless Furnace
Price $699 + s/h $45

More Information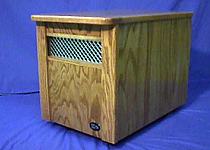 Furnace Features Learn more about the features the Sun Aire Ductless Furnace offers you for your heating needs.
Lifetime Filter No-hassle, low maintenance heating and purified air with our permanent filter.
Digital Thermostat Easy to operate and designed with cost effective, energy efficient heating in mind.
Black Mold Are you affected by Black Mold? Find out what black mold is and how it can affect you and your health.
Filter Cleaning Instructions The same great filters used by our furnaces are also used in our Air purifiers. All of our filters are permanent, washable, and protected by a lifetime warranty.
Sun Aire™ Ductless Furnace
Sorry, we are currently sold out of our heaters.
Imagine a cold winter wind blowing outside, yet you are warm and cozy inside with economic, safe, comfortable heating, thanks to your Sun Aire™ Ductless Furnace.
The Sun Aire™ Ductless Furnace provides your home with comfortable radiant electric heat that stays near the floor where you are, not on the ceiling where you aren't.
The most energy efficient furnace in the world, the Sun Aire™ Ductless Furnace heats up to 500 square feet for about $1.00 per day, using three 500 watt Halogen Quartz lamps in a heat absorption chamber to raise intake air by 80+ degrees Fahrenheit.
With its custom, programmable digital thermostat, the Sun Aire™ Ductless Furnace provides up to 28% energy savings over conventional thermostats.
The lifetime, washable filter saves you even more money by eliminating the need to buy costly replacements.
Simple to operate, the Sun Aire™ Ductless Furnace plugs into any standard 110 outlet. Set the thermostat to the desired setting, and you have 24 hour, total zone control heat.
Safe to operate with no flames, no fumes, no hot oil, no hot water, the cabinet stays cool to the touch for you, your family, and your pets!
Weighing in at only 32 pounds, 23½" L X 14½" W X 19½" H and sitting on 2 inch casters, the Sun Aire™ Ductless Furnace is completely portable and a wise investment, allowing you to take it when and where you need heat.
All Sun Aire™ Products Are Proudly Made in the USA